I am hanging on by a thread. And I continue to work on through this despair.
Still battling the fear that keeps rearing its ugly head. I DO NOT WANT TO GIVE INTO IT. But my reality is just that – my reality. I survived all summer on my credit cards and now my only cushion is soon-to-be-depleted. I have done so well in overcoming most (not all – yet!) negative self-talk, I have developed a daily routine to maintain my commitment to myself and my MKE journey, I am increasing my choice of positive reactions to things transpiring around me – yet this albatross (finances – or lack thereof) is a reality I am having a hard time overcoming. How will I ever enjoy the effect I strive towards with the cause I have identified if these thoughts keep getting interrupted?
Speaking of my daily routine. My nephew, his wife, her father and their 3 children arrived on Sunday. This is truly my third Christmas – seeing his Girls grow up – and the joy they experience to be in Florida instead of freezing in cold Montreal for Christmas is priceless. I honestly can say I never really experienced the joy of the season during my youth (and quite frankly in my adult years) until they started to make this a tradition. My apologies – I digress. Since there is considerable turmoil in my villa (1200 s.f. with 3 adults and 3 children under 5), I am "escaping" to my car to maintain my routine. I let everyone know I'm off to an appointment or to run an errand and retreat to some peace and quite. Thus far it's working and I plan to continue until they return to Canada in the new year. I just CANNOT let the old DNA take over. I've come to far. And I'm not a quitter.
This week's webinar was of some solace to me. Wish it were my "answer," alas, it did give me hope. Brass tacks with NARC: leverage the mind with positive (pleasurable) thoughts. My traction point was identified several weeks ago and I'm trying to work through it. Logically this makes all the sense in the world. Now I have to define my pleasurable thought to overcome my old DNA. And I'm not even thinking it's cause I'm too busy – I'm not (with work anyway) – and I'm making the time to run to my car to keep my daily routine – I just can't think of that "positive" thought to get me off my butt. Yes – it IS time to leverage all I have been working on.
So why haven't I figured out my pleasure thought yet? It's been 3 days.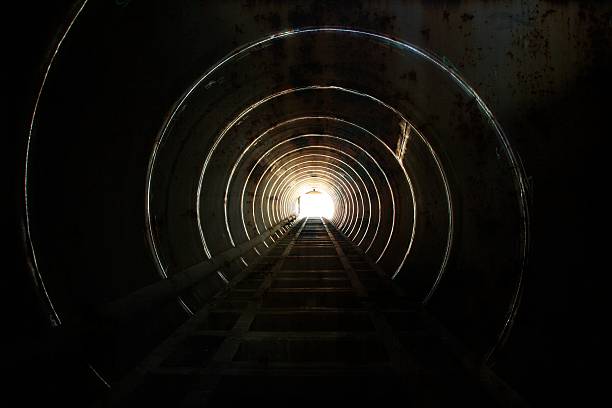 When will I see my light at the end of the tunnel?